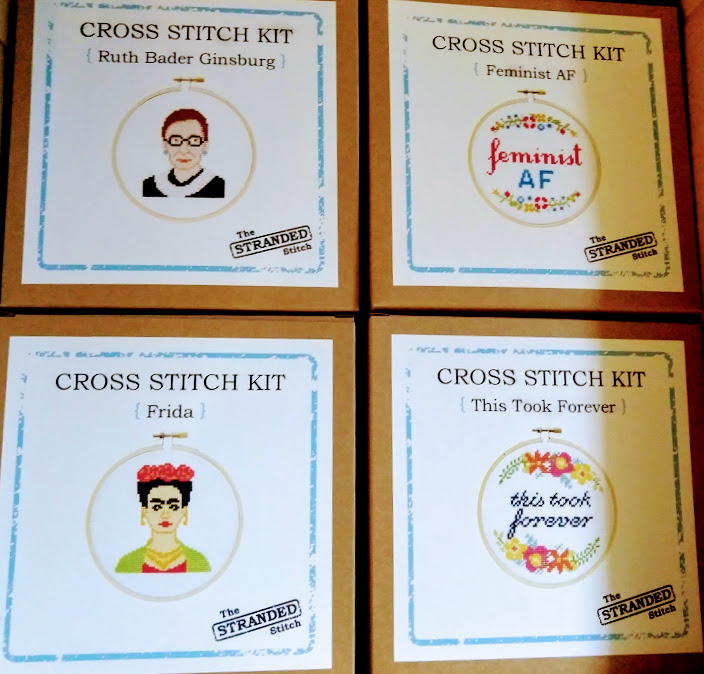 Cross Stitch
We couldn't resist selling these unique (and some, hilarious) designs made by independent cross stitch kit makers. Please note that designs can sell out and change regularly, so what is pictured may not be available. That said, we always have a fantastic selection of miniature and regular sized cross stitch kits on hand, so come by and check out what's in stock!
Additional Info
Year Round Craft
Templated Craft - Design Included
Design Options May Vary
Available To Go? true
Instructions
Verify all materials are in the kit.

Secure the cross stitch fabric in the embroidery hoop. Open the inner and outer hoops by unscrewing the top screw. Center the fabric over the inner hoop, secure with the outer hoop, and then retighten the screw. Look at the pattern and determine your starting point. Generally, the designer marks a spot toward the center where they recommend starting. Remember, cross stitch is all about counting stitches, so the starting point will likely be on or around the center, so you can work your way from the inner part of the pattern to the outside.

Separate your embroidery floss into 2-3 strands. Each piece of embroidery floss is actually 6 threads intertwined together, but left like that, it's too thick to cross stitch with. Separate into 3 for a fuller look, or 2 for a thinner, flatter look.

Make your first stitch in a cross, or X, motion on the fabric, within one of the small grids in the fabric. You can also choose to go in an entire row, doing one half of an 'X', and then circle back, creating the other half of the 'X' along the row.

Continue making small stitches, per the pattern instructions, switching colors as needed, until you're done!