Our Mission and Values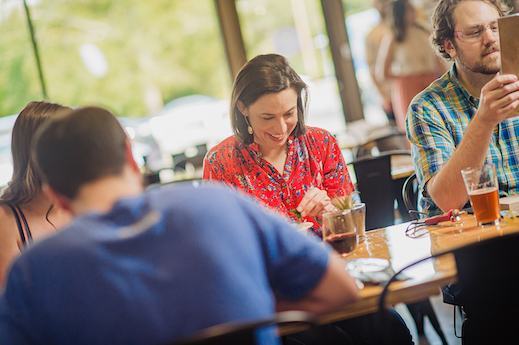 Crafts & Drafts NC seeks to make crafting a fun and stress-free experience for busy adults. We believe in trying new things and in fostering a relaxed 'come as you are' atmosphere for everyone to explore the artistic, imaginative side of themselves.
Our values are the pillars that make up who we are and why we do what we do. At a high level, our values are to make crafting inclusive and more sustainable, while being a supportive member of the local community.
Inclusivity: Regardless of race, gender, sexual orientation, ethnicity, or other attribute, we want everyone that walks through our doors to feel welcome and safe at Crafts & Drafts NC. We strive to be a place where people can be unapologetically themselves, not only because it's the right thing to do, but because authenticity is the very foundation of creativity.
Sustainability: When you craft at Crafts & Drafts NC, you can avoid purchasing the single-use plastic items that you would normally need to invest in on a project. This is not only way better for the environment, but keeps your house clutter-free!
Supporting Local: We're a local business, so obviously supporting local is a big deal for us, which is why we don't just ask our customers to support local, we are there front and center. We collaborate with local non profits, we carry 95% independent and local brews, and we work with local makers to offer their classes and carry their craft kits for sale. It's our way of giving back to the community we love so much.
About Us
Virginia George is the owner and creator behind Durham's coolest (and only) DIY bar, Crafts & Drafts NC.
Virginia grew up living everywhere from Alaska to Kansas before falling in love with North Carolina. A nerd at heart, Virginia worked full time as a project manager for tech start ups and large corporations. She found herself dreaming of a place that combined her love for community, craft brews, and creating handmade items. This dream place did not exist, so she built it.
After a grueling year of construction, Crafts & Drafts NC opened October 5, 2019, just 5 months before the global Covid-19 pandemic swept through every aspect of life. It is only through the unending support of the local community, family, and friends that it still stands today, ready to take on the next chapter. We are eternally grateful for your support.